Organization
Name: Ryukyu Budan Shoryu Matsuri Daiko Asahikawa Branch
Location: 4jodori,7choume,4.7building,Asahikawa,Hokkaidou
TEL:0166-29-0310
Group Leader: Shouta Shinohara
Activities: With a motto "introducing the attraction of Okinawa and a contemporary eisa to many people", we participate in various Okinawa related events, summer festivals, lectures, and promotion events of Okinawa trips to appeal the attraction of Okinawa.
Philosophy
We are an amateur group with the spirit of professionals, with our hearts full of gratitude, driven by the following norms and principles.
Three norms
Understand and embrace the Okinawan spirit with gratitude
Improve the performing skills through the training of body and mind
Respect the traditional arts while also learn other performing arts
Five principles
Embrace a spirit of harmony
Value manners and courtesy
Improve the quality of performances
Know that anything is possible through continuous effort
Cultivate an indomitable spirit
Objective
In order to spread the unique culture of Okinawa and Ryukyu arts we perform not only at Okinawa-related events, but also at various events across the country.
As most of our members are working people or students we endeavor to make the most of our limited practice time.
We devote ourselves to give the best performance possible, one that would impress the audience with our skill, energy, and passion.
Through our performance we sincerely hope you can enjoy a "taste of Okinawa ", and we strive to that end.
Logo Mark
Hyajaigumun Shoryu (counterclockwise spinning ascending dragon)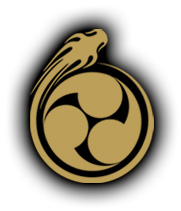 Hyajaigumun is the symbol of the old prospered Okinawa Kingdom and shows the determination to succeed their traditional cultures and spirits to our time. A dragon was the symbol of a king in old Okinawa (Ryukyu) and its picture to energetically move up to the heaven shows the development and the jump-up of the group.
* The symbol of the Ryukyu Dynasty dragon symbolizes Okinawa's strength, vigorously rising towards the sky. Special permission was required in order to use it as our group's emblem.